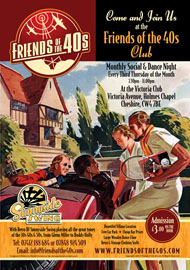 Next Get together - Thurday 16th May
Bringing you the Latest News from the Friends Of The Forties Newsdesk! 
After numerous requests and enquires over the years, of where do we have our meetings? and which events / shows do we attend?
We have eventually decided to bring the Spirit of the FOTF together by holding regular monthly informal get-togethers. 

We've found a wonderful venue, a period style country community club in the
beautiful village of Holmes Chapel, Cheshire. 
Our social meets take place every 3rd Thursday of the Month.
Read more ..