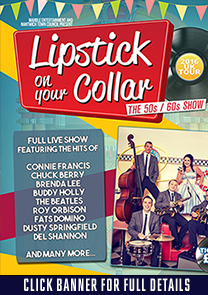 Lipstick On Your Collar - The 50s/60s Show at Nantwich Civic Hall
Step back in time and re live the 50s & 60s where the jukebox roared and feet didn't touch the floor. Get your dancing shoes at the ready, grab yourself a milkshake and relax - you are in for an evening of back to back hits from the 1950s & 60s!
Lipstick On Your Collar specialise in bringing the Classic Pop hits from the Golden Era of music back to life. With authentic vintage style costumes to add to the sense of occasion, Lipstick On Your Collar deliver strong vocals, tight harmonies and an infectious sense of fun. Expect numbers by the likes of Connie Francis, Buddy Holly, Chuck Berry and The Beatles to name but a few!
Read more ..