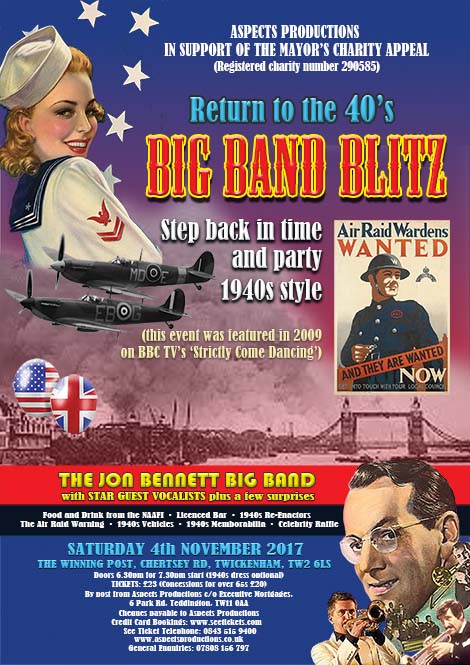 BIG BAND BLITZ 2017
This year is the 18th year of our annual 1940s Charity Gala, Big Band Blitz.
The event helps benefit the Mayor's Charity Appeal (reg charity no. 290585)
This year Big Band Blitz
will be on Sat 4th November at The Winning Post, Chertsey Rd, Twickenham, TW2 6LS.
Can you please list this special charity event on your site. Whatever promotion you can give this years event will be so appreciated by the Mayor and the Mayor's Charities.
The Mayor of Richmond upon Thames will be attending the event, plus other VIP guests, and 200 members of the public.
Big Band Blitz is a step back in time to a wartime dance event of the 1940s, featuring the live music of the Jon Bennett Big Band, plus a host of 'showbiz' guest vocalists. We are hoping that Dame Vera Lynn's musical director, Jack Honeyborne, will be making an appearance for a special medley dedicated to Dame Vera.
Apart from the 'showbiz' guest performers, there will also be 1940s re-enactors, 1940s memorabilia, the Air Raid Warning, Food and Drink from the NAAFI, the Celebrity Raffle, plus a few surprises.
Ticket holders can dance the night away or just sit back with a drink and enjoy the entertainment.
Dress Code - 1940s Forces or Civillian dress preferred, but totally optional.
Tickets £23 (concessions for over 65s £20).
by Post from Aspects Productions c/o Executive Mortgages, 6 Park Rd, Teddington. TW11 OAA
Cheques payable to Aspects Productions.
Credit Card Bookings: www.seetickets.com
See Ticket telephone: 0843 515 9400
General Enquiries: 07808 156 797